Dental Staff in Kitchener, ON
Mi Dental aims to provide individuals with a comfortable and relaxing environment where we strive to exceed your expectations through professional results and our friendly staff.
Team @ Mi Dental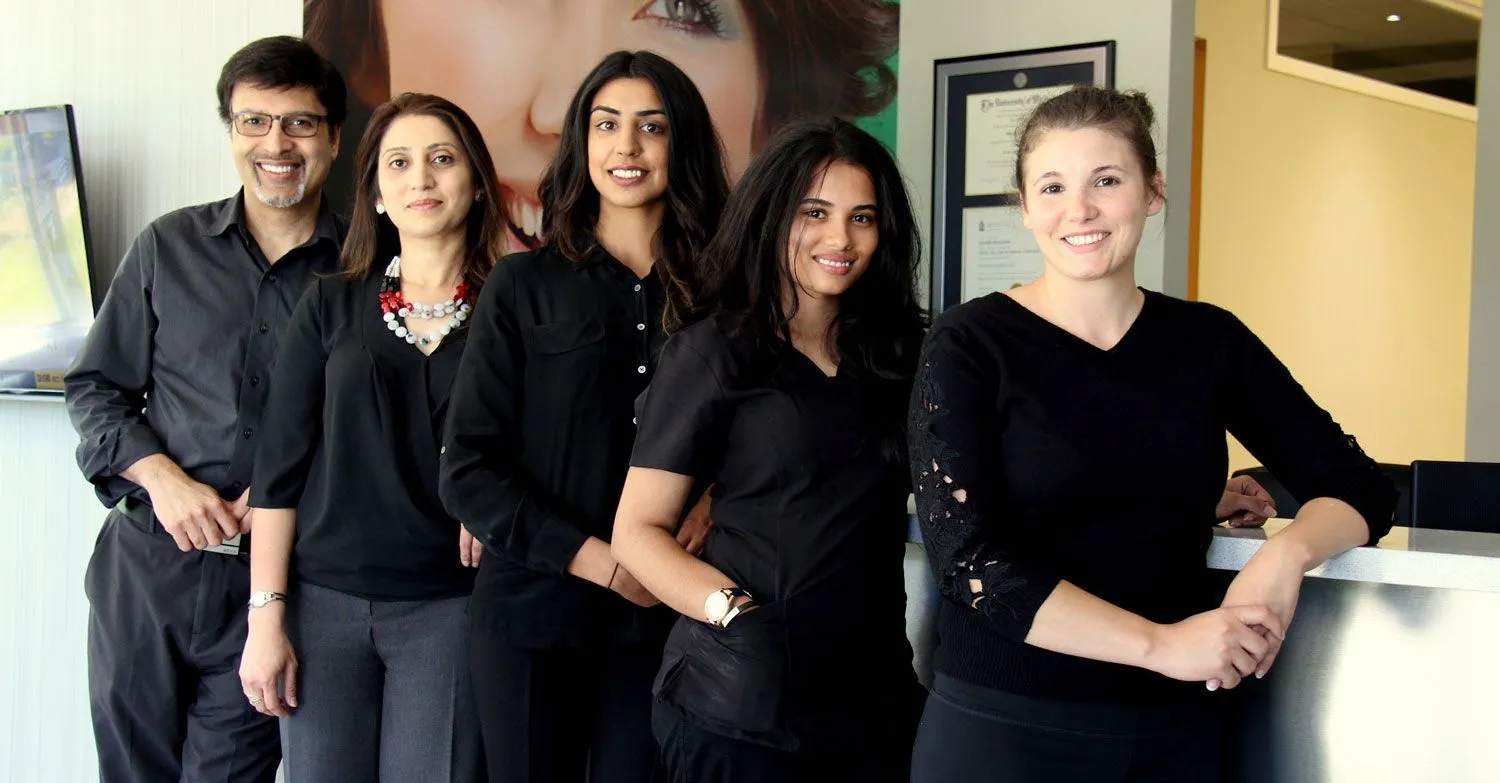 Dr.

Dentist Kitchener ON

Dr. Manzoor believes the most important aspect of delivering excellent care lies in listening to his patients, understanding their concerns, and knowing their expectations. He is passionate about educating his patients in regards to their oral health and collaboratively works with them in devising a treatment plan that best suits their individual needs and lifestyle.

As a dedicated dental professional, his clinical decision-making is driven by a firm commitment to provide outstanding value-based solutions. Leading by a vision of continued personal and professional growth he strives to blend art, science, and technology in his clinical practice of dentistry.

Dr. Manzoor received his Doctor of Dental Surgery degree from the University of Michigan and completed his post-graduate one-year hospital residency. He brings over 20 years of experience in clinical dentistry and
actively engages in upgrading his skills by attending advanced courses. Dr. Manzoor consistently incorporates the latest developments in dental technology into his practice.

His philosophy of giving back to the community led him to volunteer his time and services to the underserved at Michigan Community Dental Center and Cherry Street Health Services in Grand Rapids Michigan.

He is a fellow of the International College of Oral Implantologists and a proud member of the American Association of Cosmetic Dentistry, American Academy of Implant Dentistry, Academy of General Dentistry, Ontario Dental Association, and Royal College of Dental Surgeons of Ontario.

Dr. Manzoor uses his creative potential as an avid photographer with a keen interest in portrait photography. He enjoys watching movies and exploring nature with his three lovely children.

Dr.

Dentist Kitchener ON

Dr. Ali Ahmed comes with over 20 years of experience in various aspects of clinical dentistry. He has a background in oral sedation, dental implants, and oral surgery. Dr. Ahmed attends to our surgical cases including wisdom teeth impactions and dental implant placements. Our patients feel very comfortable with his warm and friendly personality. 

Business Manager

Farah enjoys working from the back office at Mi Dental. She is minutely focused on the larger and smaller aspects of the practice and in her opinion, it is the attention to detail that leaves a memorable imprint. I strive for perfection and lead my team with enthusiasm and motivation towards a unified vision of the practice. 

Registered Dental Hygienist

Tori graduated with dental hygiene in December 2017 from Georgian College. She started at Laurentian University where she got her psychology degree but decided to take the dentistry route. She loves helping her patients achieve a better level of overall health by educating them on the importance of oral self-care. She loves meeting new people each day and finds it very rewarding to see them reach their dental hygiene goals! She spends her free time with friends and family and staying active by playing hockey and baseball!

Front Desk Administrator

Sim is a proud graduate of three medical-related programs and believes patient care starts as soon as you first step through our door. Sim is our front desk administrator and is our friendly first face you get to meet at our office. As a diverse individual who loves learning new things and expanding her knowledge, she works diligently to understand and best explain any questions you may have regarding the financial aspects of your care. She strives to work closely with patients and their schedules when booking appointments as she understands how busy life can get. Outside the office, Sim spends much of her time indulging in her love for the Arts. Some of the activities that she enjoys include small renovations, dancing, sketching, baking, and modeling. She believes you can do anything if you just put your mind to it and having a nice smile opens up a world full of endless possibilities. 'Life's too short to be anything but happy, so make the most of simple moments, appreciate kindness and smile every chance you get.  

Front Desk Administrator

Ziana is Alumni at Wilfrid Laurier University where she obtained an Honors Health Sciences degree. She has been very active in both her home and university communities. Within and beyond these communities much of her work experience has involved working with children – just one of her passions. She also enjoys listening to and making music, driving, discovering new places, and learning. She is dedicated and motivated in achieving her goals. As an aspiring dental health care provider she enjoys working with her colleagues and is pleased to work with patients of MiDental. Ziana understands that patient confidentiality and satisfaction is an important factor in providing health care. She looks forward to exchanging smiles with you! 

Certified Dental Assistant

Jessica attended the Certified Dental Assistant Program at Medix College in 2016.  She's a proud assistant who looks forward to coming into the office every day, learning new things, and staying productive.  When you arrive at MiDental she will ensure you are comfortable and relaxed and will answer any questions you might have about the work to be completed. Jessica works as the doctor's right hand in the office, supplying the materials needed for each and every procedure, performing x-rays, teeth polishing, and oral hygiene instructions to our patients.   

Certified Dental Assistant

Alia is proud to be a level 2 Dental Assistant, she received he diploma from the National Academy of Health and Business. Alia enjoys working as both front-desk and chair-side assistant, she takes initiative to further her training by attending seminars. She believes in superior patient care and strives to enhance the overall patient experience. Alia believes that's a smile can lead to opportunities, attract love, and bring peace and that's her plan for you.

Certified Dental Assistant

Shannon comes to us from Thunder Bay. Shannon has been passionately involved in dental assisting since 2005. Shannon is a people person and loves working with and learning about our patients. "This job is so interesting, each patient has an individual goal and each outcome is different" There is nothing that compares to the satisfied look on patients face when they have navigated the sometimes confusing world of dentistry and the unknown of treatment, only to come out the other end with an even bigger better smile. Shannon feels that the combination of working so closely with patients, and the incredible opportunity to learn and grow makes this the perfect job for her. "Dentistry today is exciting, the field of dentistry is constantly changing, and it keeps me on my toes"

Outside of the office, Shannon's other passions include spending time with family, camping, hiking, cooking, baking, reading, and traveling.